The 31st NISPAcee Annual Conference Main Theme: "THE FUTURE OF PUBLIC ADMINISTRATION ENABLED THROUGH EMERGING TECHNOLOGIES"
May 25-27, 2023 Belgrade, Serbia
Summary Report
Contemporary public administration is tackling the challenges of globalisation, social and demographic changes, migration, and climate change. Layered and complex reform trajectories and instruments are needed to modernise public administration, improve the efficiency and effectiveness of service delivery, and achieve high standards of reliability and accountability. All sectors of society, including public administration, will have to play a role in the effort towards a green transformation. Faced with rapid and accelerating socio-economic change, public administrations need to take into account the opportunities offered by new technologies, as well as develop new services aimed at openness, transparency, and citizen participation accordingly.
The conference paid particular attention to the topic of the digital transformation of public administration. The issues taken into consideration were as follows: the role of the public sector in the Fourth Industrial Revolution, as well as the challenges of implementing new technologies in the transformation of public administration. Moreover, in the knowledge society, the capacity to innovate and the ability to implement innovations are very important for the public administration of the future.
The scope of the topic was an opportunity to directly reference the theme of the 2011 conference held in Varna, Bulgaria - Public Administration of the Future. The objective of this topical review was to gain insight into the changes and developments predicted and problematised at the Varna conference (public administration reform, e-Government, Civil service, fiscal policy...) and to gain insight into the realised potential, new challenges, and issues of public administration a decade later.
Thank you for joining us!
The conference was opened by an
Opening Ceremony.
Several distinguished speakers presented their welcome and openning speeches on this occasion:


Calin Hintea
, NISPAcee President, Babes-Bolyai University, Cluj-Napoca, Romania
Dejan Miletic
, NAPA Director, Belgrade, Serbia
Local Serbian PA representatives:
Yakup Beris,
Resident Representative of the United Nations Development Programme (UNDP) in the Republic of Serbia
Jasmina Benmansur,
Assistant Minister, Ministry of Public Administration and Local Self-Government Republic of Serbia
Tanja Miščević,
Minister of European Integration, Belgrade, Serbia
NISPAcee partners:
Maja Handjiska-Trendafilova,
ReSPA Director, Danilovgrad, Montenegro
Taco Brandsen
, EAPAA Secretary-General, Radboud University, The Netherlands
Brown Trevor,
NASPAA President, John Glenn College of Public Affairs, Ohio State, United States of America
Alikhan Baimenov
, Steering Committee Chairman, Astana Civil Service Hub (ACSH), Kazakhstan
Elizabeth Niland
, Dept. of Economic & Social Affairs, Division for Public Institutions and Digital Government, United Nations, New York, United States of America
The Opening Ceremony was followed by
Keynote presentations
delivered by:
Nikola Čanak,
Professor of Applied Psychology and Communication, and of Leadership and Personnel Management, NAPA, Serbia Title of the presentation: Homo sapiens vs Homo digitalis
Gianluca Misuraca
, AI4Gov Executive Director; InTouchAI.eu Team Leader and Key Expert on Technology Diplomacy; Universidad Politecnica de Madrid, Spain Topic of his presentation: Designing the future of public administration - governance "of, with and by" Artificial Intelligence
Paul Joyce
, Publication Director of IIAS, Brussels, Belgium; University of Birmingham, Birmingham, United Kingdom Topic of his presentation: Public Governance and Digital Transformation
The next programme included presentations of more then 132 academic papers presented within 2
research panel sessions and meetings of 9 NISPAcee Working Groups
.
Additional conference activities included
ReSPA – NAPA workshop, ACSH/UNDESA/NISPAcee Capacity Development Workshop, EAPAA Panel - Accreditation: A Tool for Professionalisation?
______
Invitation to the 32nd NISPAcee Annual Conference 2024
was presented at the end of the conference by:
Eka Akobia, Dean, Caucasus University
, the local organiser of the conference.
Main Conference Theme:
"Public Administration in post-conflict reconstruction"
Term:
May 23 - 25, 2024, Tbilisi, Georgia

______
NISPAcee Business Meeting
and elections of a new member of the NISPAcee Steering Committee were held during the conference
on May 26, 2023
. One NISPAcee Steering Committee member, ex-NISPAcee President Gyorgy Hajnal, finished his term in Steering Committee. NISPAcee thank him for all the work and contributions to the organisation development over the years of his term.
The new member of the NISPAcee SC was elected:
Tamás Gábor Molnár
, Corvinus University of Budapest, Hungary.
After two years mandate a function of NISPAcee president Calin Hintea, Dean of the Faculty of Political, Administrative and Communication Sciences, Babes-Bolyai University, Romania was concluded. Within these years two successful conferences and many other activities were performed, NISPAcee thanks him for these fruitful two years.
Steering Committee has afterwards chosen a new president, who is Eka Akobia, Dean, Caucasus School of Governance at Caucasus University, we felicitate her and we are looking forward to new activities ahead of us!
The 31st NISPAcee Annual Conference was attended by 175 participants in total from 36 countries and 83 institutions.
NISPAcee would also like to thank the local organisers,
National Academy of Public Administration
, mainly to
Dejan Miletic, the Director and the Chair of the Local Organizing Committee as well as to Snežana Antonijević, Radmila Tomović and Tajana Avdalović
, members of the Committee and to the whole Serbian team for the excellent organisation of the conference, financial support and preparation of the social events, which created a special, friendly and pleasant atmosphere for conference participants.Their openness and support were highly appreciated by the NISPAcee conference team as well as by all conference participants.
Simultaneously, NISPAcee would like to thank to members of the
International Program Committee,
including the coordinators of all research working groups, chairs of sessions and panels for their contributions to the high scientific and academic value of the entire event.
______
______
NISPAcee Awards presented at the NISPAcee Annual Conference 2023
was presented by Calin Hintea, NISPAcee Immediate Past President, Babes-Bolyai University, Cluj-Napoca, Romania to the winner:
Polona Kovac,
University of Ljubljana, Ljubljana, Slovenia Topic of her presentation:
Public Administration and Law – Prospective Allies in Theory, Government Practices and Teaching
Was presented by Anamarija Musa, Chair of the Award Selection Committee to the winner:
Iga Katarzyna Jeziorska
, Corvinus University, Budapest, Hungary Topic of her PhD Theses: "
Understanding the Determinants of Policy Performance in Collaborative Context: The Case of Drug Harm Reduction Services in Central-Eastern Europe
"
Was presented to:
Gyorgy Hajnal,
Corvinus University, Budapest, Hungary.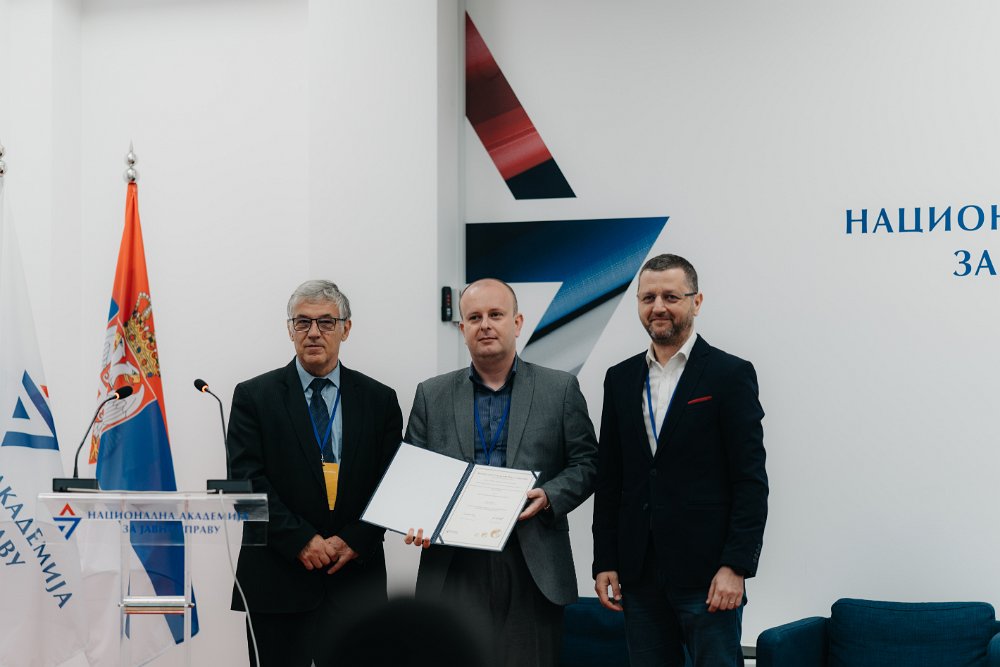 presented by a member of the Award Selection Committee Juraj Nemec to the winner:
Jozef Kucera
, University of Matej Bel, Faculty of Economics, Banska Bystrica, Slovakia. For the paper: "
Comparative Analysis of The Sports´ Public Funding Systems Effectivity in The European Union
".